Posted on 20. Jul, 2010 by admin in Lisa News.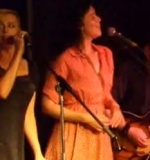 Lisa performed last week at the 10th Junction Festival Anniversary Party at O'Keeffes in Clonmel, Ireland.
In addition to debuting a new track, "Fear", Lisa also performed "Love Is a Battlefield with Cathy Davy, Gavin Glass and David Kitt, and a duet of "Blue Moon" with Cathy Davy, which you can see below.
You can watch some video footage from the night here.