Archive for December 25th, 2010
---
Posted on 25. Dec, 2010 by admin.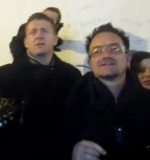 For the second year in a row, Damien performed on Grafton Street in Dublin for charity, alongside our other favourite singers, Bono, Glen Hansard and many more.
I'm sure there'll be many more video clips in the days ahead, but here's the first as a special Christmas treat.
Merry Christmas everyone!
Continue Reading
---