Posted on 21. Feb, 2011 by admin in Damien News.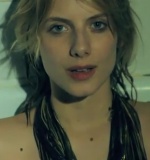 Dublin's Evening Herald reports that Damien has recorded 2 tracks with French actress Melanie Laurent.
The tracks will appear on Melanie's forthcoming album, released on 5 May.
"It's a crazy story. I went to Woodstock [over two years ago] to record the album and I was unhappy with what happened there," she recalled.
"I called my manager and asked him to call Damien Rice's manager and organise something. I didn't expect him to come, but he did, and we started to work together. I fired everyone and followed him to Ireland.
"He taught me everything about being a musician. I was a huge, huge fan, so it was weird for me to just speak with him like it's natural, when I was like, 'Oh my God, I'm speaking with Damien Rice and we're creating music together'."