Posted on 25. Feb, 2011 by admin in Damien News.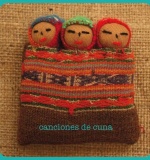 Damien has contributed a new song ("Look at Me") to an Argentinian compilation album, Canciones de Cuna (Lullabies).
Now available exclusively at branches of Disco in Argentina, the album features songs recorded by various artists with lyrics written by children aged 7 to 21.
All proceeds from the sale of the CD will be donated to the Casa de la Cultura de la Calle to support projects encouraging social inclusion through art for children at social risk.
Here is the tracklist (thanks Verena):
1. Ricardo Mollo: No Me Llore Tanto
2. Hugo Fattoruso: Cita Con Dios
3. Luis Alberto Spinetta: Mañana despertar
4. Pedro Aznar: Ojitos de mi corazón
5. Damien Rice: Look At Me
6. Vitor Ramil: Si te duermes
7. Ulises Butron: Un Sueño Hecho Realidad
8. Hilda Lizarazu: Tu Mundo
9. Kevin Johansen: Duerme
10. Fernando Cabrera: Pequeño Ser
11. Lisandro Aristimuno: Madre Santa
12. Litto Nebbia: El Que Crece
13. Luka Bloom: Listen To Yourself
14. Fito Paez: Mírame
15. Miguel Cantilo: Tan Libre Como Quieras Ser
16. Gonzalo Aloras: De Mi Olvido
17. German Daffunchio: Mamá querida