Posted on 25. Apr, 2011 by admin in Damien News.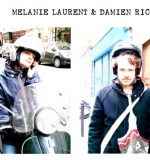 Melanie Laurent's debut album is now available on iTunes, featuring two duets with Damien Rice.
These two tracks are called 'Uncomfortable' and 'Everything You're Not Supposed To Be'. You can listen to previews of both here.
Melanie will be performing live in France and Belgium this summer. Tour dates here.