Posted on 14. May, 2014 by admin in Damien News.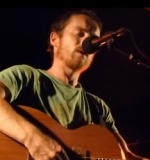 Last night, Damien played his first full show in Dublin for many years. The gig lasted for two and a half hours.
And Damien confirmed that a new album will be coming in the autumn.
Here's a feature on Irish radio this morning, which includes an interview with Damien's proud granny!
Read some fan reviews in the Igloo.
And here's a full set-list, thanks to Chrysler:
Main Show:
01: Delicate
02: Elephant
03: Woman Like A Man
04: 9 Crimes
05: Eskimo
06: The Box
07: Amie > Sex Change
08: The Professor & La Fille Danse
09: Volcano
10: The Greatest Bastard
11: Coconut Skins
12: Rootless Tree
13: Cold Water
14: Hallelujah
Encore
15: Cannonball
16: Long Way To The Top
17: Black is the Colour
18: I Remember
19: The Blowers Daughter