Posted on 11. Jul, 2014 by admin in Damien News.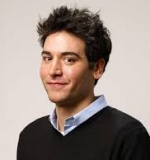 Josh Radnor, who played Ted on How I Met Your Mother, has written about his memories of falling in love with Damien's album "O".
You can read the full article here, but here's an excerpt:
How to describe that initial encounter? It was certainly a stop-what-you're-doing moment, and that's exactly what I did. I looked up from—oh, I don't know, the coffee maker, the New York Times, my audition sides—and thought: "This… is the most beautiful thing I've ever heard." A sad Irish troubadour's exquisite songs of romantic heartache and pain, how he'd wronged and been wronged, delivered in a startlingly pure, achingly sincere, and elastic voice. It called something forward in me, some heartbroken essential thing. I furiously scribbled down the name: Damien Rice. I needed this music in my life. A quick internet search and a few record store visits (remember those?) revealed that it was available exactly nowhere, its domestic release not scheduled until the following year.