Posted on 04. Sep, 2014 by admin in Damien News.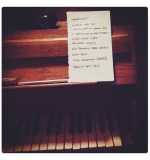 Good news! Damien's new album, "My Favourite Faded Fantasy", will go on sale on 31 October.
The tracklist reported by Amazon is:
1. My Favourite Faded Fantasy
2. It Takes A Lot To Know A Man
3. The Greatest Bastard
4. I Don't Want To Change You
5. Colour Me In
6. The Box
7. Trusty And True
8. Long Long Way
Note that the image posted by DamienRice.com includes the following other track titles:
Camarillas
Mustard Seeds
Update: This tweet from George Ergatoudis (Head of Music at BBC Radio 1) may suggest that the first single will be "The Greatest Bastard".