Posted on 08. Sep, 2014 by admin in Damien News.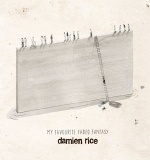 Zane Lowe just played the title track from Damien's new album, "My Favourite Faded Fantasy", for the first time on BBC Radio 1, saying:
"So astounding, so stunning, we had to start the week with it…"
Note: this track is available on iTunes from midnight (EST) tonight when you pre-order the album from iTunes.
Today, it was also officially confirmed that the new album will go on sale from 31 October.
Listen back to the Zane Lowe show tonight from here.
And here's a video excerpt: