Posted on 22. Sep, 2014 by admin in Damien News.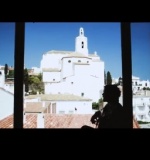 Damien will be performing songs from My Favourite Faded Fantasy on BBC's Later with Jools Holland on 30 September.
Also, listen in to the Zane Low Show on BBC Radio 1 this wednesday evening (24 September), as it's possible he will be debuting "I Don't Want to Change You", the first single from the new album.
(Thanks to Eva and Borneoman for the detective work!)
Here's a recording of Damien's first performance on Later with Jools Holland back in 2002…