Posted on 30. Oct, 2014 by admin in Damien News, Interviews.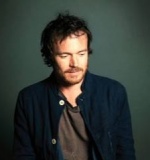 Damien Rice: 'I opened every can of worms I could…'
We are deep in the barren Icelandic countryside, miles from Reykjavik, and Damien Rice is playing one of the most intimate shows of his life.
There's a small crowd of friends and musicians and a handful of journalists present in this former swimming pool-turned-recording studio. It is in this very space that Sigur Ros made some of their finest albums.
But this Monday evening in early September is all about the songsmith from Celbridge, Co Kildare, beginning promotional rounds for the release his first album of new material in eight years.
Iceland has become something of a home from home for Rice. He estimates that he has spent nine months over the past two years in this strange, captivating land – and My Favourite Faded Fantasy was largely recorded here, with local musicians dominating the credits on the album's liner notes.
There was much talk about the lengthy hiatus between U2 albums before they dropped Songs of Innocence into half a billion iTunes accounts last month, but such a gap was nothing for those waiting for Damien Rice to get around to releasing a follow-up to 'difficult' second album, 9.
Earlier, in a comfortable room in the attic of the Idno Theatre in Reykjavik, I ask Rice where he has been for the past eight years. "Up his arse," he quips, grinning broadly. The real answer is much more complicated.
"When I started off in music," he says, "I started with a real innocence, a real love for the instrument, the writing the songs, the playing the songs and the sharing and the recording and experimenting. It was exciting.
"Then, this thing called success came and something happened at some point where I became disenchanted and I lost the innocence. I got to a place where, in all honesty, I got a little bit arrogant and felt that I knew what I was doing, but really I was using that as a buffer to the world, because underneath I had no fucking idea what I was doing and I was kind of lost."
He fixes his brilliant blue eyes on me and continues: "My relationships with the people in the band were starting to disintegrate. I wasn't happy, but I was in a position where I was theoretically supposed to be happy. And if I'm not happy in that situation, then I become a miserable, unappreciative git. So I had all of that conflict going on inside. I would beat myself up, going 'there's something wrong with you, you don't appreciate anything, look at you, you're just spoilt'."
Everything came to a head during the tour in support of 9 when his relationship with girlfriend and collaborator Lisa Hannigan unravelled spectacularly and in a very public fashion. "I felt like I had crashed and burned mentally," he says, resignedly. "I couldn't write any more. Anything I'd write, I didn't like. Anything I'd record, I didn't like."
It took a process of self-analysis to reach the point where he could become a musician again. "I focused on fixing the things that had caused the crash in the first place. I got to realise that it was mostly caused by me being afraid that I would let other people down, afraid that I wouldn't be good enough as a human being without the music.
"I invited all these different sides of myself to dinner – the arrogant fucker, the really nice guy, the over-polite fella – and we all just sat down and had a lot of dinners together and slowly, when I made friends with all these different crazy personalities that were going on in my head, I started to feel less angry and less frustrated and everything just started to open up and then I started to reach for the guitar again and tinkling at the piano again, and I started spotting all these things that I had done in the past that led to this thing happening, and so my finger-pointing completely changed."
He says this period of self-reflection has worked its way into the album. "I opened up every can of worms I could," he says. "I got to the place where I would peel back one layer, and then another layer, and the stuff that would come up underneath was so inspiring, it made me want to write about it. And it's still going – I can't wait to get back in the studio."
He plans to record new material in Reykjavik in the new year with Alex Somers – the US musician (and partner of Sigur Ros frontman Jonsi Birgisson) – in the producer's chair.
Despite writing the best part of 100 songs, only eight make it onto My Favourite Faded Fantasy. They are, he says, simply the ones he enjoys listening to most, irrespective of what his "friends and management" think. "There are a bunch of songs that I think are beautiful recordings and I'm proud of them," he adds, "but I've no interest in listening to them."
This is the first Damien Rice album not to feature Lisa Hannigan. To give a sense of how critical a part she played in his recording history, consider that hers is the last voice the listener hears on his much-adored debut album, O, and the first they hear on its follow-up, 9.
"It wasn't even so much missing the voice," he says. "It was just missing Lisa. It was missing my partner in the studio. She was not afraid to be honest with me if she didn't like something. That was very healthy for me, whereas initially, for this, I was on my own without somebody to tell me, 'This is crap – do that again'. I was missing that and that's why I reached out to Rick [Rubin, the album's producer] – because Lisa wasn't around, I needed somebody who wasn't going to want to change me but be able to stand there in front of me and tell me 'not good enough'."
He had wanted her to sing on the album. "I spoke to her about it and asked her what she thought of it [making music together] and she very beautifully responded saying that she thinks it's best for both of us that we" – here he pauses for a long time to find the right words – "do our own thing for now.
"The moment I got that response – boom! – everything started working. Because I could let go and I was like 'ok, I'm doing this alone'."
That sense of liberation was tinged with sadness. "I don't think the two of us will work together again," he says, looking at his hands, "but there's no reason why we couldn't play live together again some time."
He says Rubin was an essential component on the album, even though he wasn't present for any of the Icelandic recordings. "I was asleep and Rick helped wake me up. When I say asleep, I mean that I was asleep to the fact that I was standing in my own way. He helped me get out of my way, and had he not done that, there may not be a record."
He says he had no inkling that O had the potential to be such a big-seller. "When I finished O, I remember thinking this is the most uncommercial record you could possibly make. I remember sitting down with the band at the time and saying to them, 'Do you want to get paid or do you want to get a percentage of the sales?' I had no money at the time, so I said, 'I could pay you a little bit or you could take a gamble – work with me for nothing and we'll all take a share of the earnings'.
"They were saying, 'How much do you think we're going to make if we do percentages?' and I did a calculation and I said 'I'm confident we'll sell 5,000 copies, so therefore you'll make the same as if I was to pay you fees'."
The album went on to sell more than two million copies, which must make for painful reading for the one bandmate who opted to be paid the fee.
I ask him if he would ever change anything about the past. "No," he says, without hesitation. "I think it's perfect. That's why sometimes when people bring up the Lisa thing, I am so grateful for everything I experienced with her because I got to learn amazing things."
Would he trade the hard times for her still to be part of his music and personal life? This time, there's a long pause. "I am totally different now that when I did that Hot Press interview [in which he declared his love for Hannigan a few years after they split]. My perspective on things is totally different. I wouldn't change a single thing I ever said, even hurtful stuff.
"There are many things that people have said to me in the past that I thought hurt my feelings. I say, 'Thought hurt my feelings'. But when I look back now, I can recognise that I hurt my feelings, not the person. They said some words – which are just sound, vibration, energies. And it all depends on how I translate that in here [pointing to his head]."
At this point, his sister Fiona – who is part of his management team – appears to tell him he needs to eat before the showcase. But he is keen to finish his point.
"Let's say I get called a 'selfish, arrogant asshole'. I've learned how to not get defensive. 'Selfish' comes into my life now and I count all the times I was selfish. I count all the times I was arrogant – so many times. 'Asshole' – again, so many times. And I start smiling and think, 'This person is so right: I am a selfish, arrogant asshole – sometimes. Similarly, I am a kind, humble, gentle human being – sometimes. As is everyone. Everyone is capable of everything."
My Favourite Faded Fantasy is released tomorrow. Damien Rice plays the Bord Gáis Energy Theatre, Dublin, on November 3.