Posted on 08. Jun, 2010 by admin in Other Music.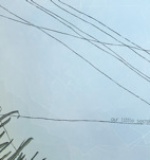 One of the great things about EskimoFriends.com is the way people share recommendations for great new music. Today I'd like to share with you this great new Irish musician, Rhob Cunningham, AKA Our Little Secrets.
Last month, Our Little Secrets released their (his?) debut album, which you can buy on iTunes. The album features Lisa Hannigan on guest vocals on the track "Good or Bad Thing".
Having already toured with Lisa, as well as Bell X1, Cathy Davey, Mundy, Mick Flannery and the late John Martyn, Rhob is playing at a number of venues around Ireland in the coming weeks. This week he opens for the excellent James Vincent McMorrow in Cork (9 June) and Galway (11 June).
Here is a sample track, "Rose's Song (From Harm)", which I think you'll really like…