Archive by Author
---
Posted on 10. Apr, 2011 by admin.
In anticipation of her 2nd studio album, Lisa has announced a comprehensive Irish tour, kicking off in Cork on 6 May. Here are the tour dates in full:
May 06, 2011 Triskel Christchurch Cork, IE
May 12, 2011 Debarras Clonakilty, IE
May 13, 2011 The Spaniard Kinsale, IE
May 15, 2011 Spirit Store Dundalk, IE
May 19, 2011 Kenny's Bar Lahinch, IE
May 21, 2011 Roisin Dubh Galway, IE
May 22, 2011 Linenhall Arts Centre Castlebar, IE
May 25, 2011 Empire Music Hall Belfast, UK
May 27, 2011 O'Keeffes Clonmel Clonmel, IE
May 28, 2011 The Forum Waterford, IE
Jun 08, 2011 Whelan's of Wexford Street Dublin, IE
Jun 09, 2011 The Set Kilkenny, IE
Jun 10, 2011 The Dock Carrick on Shannon, IE
Jun 15, 2011 Glór Irish Music Centrec Ennis, IE
Jun 16, 2011 Dolan's Pub Limerick, IE
Jun 17, 2011 Gleneagle Hotel Killarney, IE
Jul 06, 2011 The Model Sligo, IE
Jul 09, 2011 Bažant Pohoda Trenčín, SK
Jul 20, 2011 The Balor Ballybofey, IE
Jul 25, 2011 Glebe Garden Amphitheatre Baltimore, IE
Jul 28, 2011 The Séamus Ennis Cultural Centre Naul, IE
Jul 30, 2011 Riverbank Arts Centre Newbridge, Kildare, IE
To view some video diaries from Lisa's recording sessions, click through to read the rest of this post.
Continue Reading
---
Posted on 31. Mar, 2011 by admin.
Damien was a surprise guest at a Frames concert in Dublin last night, performing the same new song he recently performed a few weeks ago in Whelan's.
Read more about the performance here…
Continue Reading
---
Posted on 09. Mar, 2011 by admin.
Last night Damien was a surprise special guest at a Glen Hansard / Liam O Maonlai double-headliner gig in Whelan's Dublin.
Damien performed a brand new song….
Continue Reading
---
Posted on 25. Feb, 2011 by admin.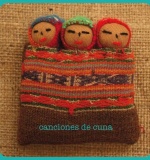 Damien has contributed a new song ("Look at Me") to an Argentinian compilation album, Canciones de Cuna (Lullabies).
Now available exclusively at branches of Disco in Argentina, the album features songs recorded by various artists with lyrics written by children aged 7 to 21.
All proceeds from the sale of the CD will be donated to the Casa de la Cultura de la Calle to support projects encouraging social inclusion through art for children at social risk.
Here is the tracklist (thanks Verena):
1. Ricardo Mollo: No Me Llore Tanto
2. Hugo Fattoruso: Cita Con Dios
3. Luis Alberto Spinetta: Mañana despertar
4. Pedro Aznar: Ojitos de mi corazón
5. Damien Rice: Look At Me
6. Vitor Ramil: Si te duermes
7. Ulises Butron: Un Sueño Hecho Realidad
8. Hilda Lizarazu: Tu Mundo
9. Kevin Johansen: Duerme
10. Fernando Cabrera: Pequeño Ser
11. Lisandro Aristimuno: Madre Santa
12. Litto Nebbia: El Que Crece
13. Luka Bloom: Listen To Yourself
14. Fito Paez: Mírame
15. Miguel Cantilo: Tan Libre Como Quieras Ser
16. Gonzalo Aloras: De Mi Olvido
17. German Daffunchio: Mamá querida
Continue Reading
---
Posted on 21. Feb, 2011 by admin.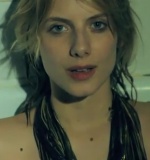 Dublin's Evening Herald reports that Damien has recorded 2 tracks with French actress Melanie Laurent.
The tracks will appear on Melanie's forthcoming album, released on 5 May.
"It's a crazy story. I went to Woodstock [over two years ago] to record the album and I was unhappy with what happened there," she recalled.
"I called my manager and asked him to call Damien Rice's manager and organise something. I didn't expect him to come, but he did, and we started to work together. I fired everyone and followed him to Ireland.
"He taught me everything about being a musician. I was a huge, huge fan, so it was weird for me to just speak with him like it's natural, when I was like, 'Oh my God, I'm speaking with Damien Rice and we're creating music together'."
Continue Reading
---
Posted on 06. Feb, 2011 by admin.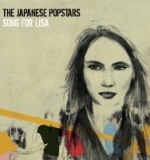 Lisa Hannigan has joined forces with Derry-based dance trio The Japanese Popstars on a new single called "Song for Lisa".
The track, taken from the Japanese Popstars' forthcoming second album Controlling Your Allegiance, is being released as a single on 25 February.
Check out the video below…

The Japanese Popstars – Song For Lisa
Continue Reading
---
Posted on 25. Dec, 2010 by admin.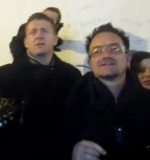 For the second year in a row, Damien performed on Grafton Street in Dublin for charity, alongside our other favourite singers, Bono, Glen Hansard and many more.
I'm sure there'll be many more video clips in the days ahead, but here's the first as a special Christmas treat.
Merry Christmas everyone!
Continue Reading
---
Posted on 20. Dec, 2010 by admin.
Continue Reading
---
Posted on 19. Dec, 2010 by admin.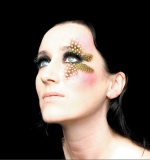 Hot Press reports that Damien will feature on a new album from Irish singer Maria Doyle Kennedy in the new year.
You might know Maria from her acting career, having appeared in The Commitments, Dexter, The Tudors and much more…
Here is my favorite Maria Doyle Kennedy song:
Discuss this story here.
Continue Reading
---
Posted on 01. Dec, 2010 by admin.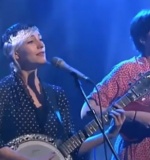 Last Saturday night Lisa Hannigan performed "Blue Moon" on Irish TV with Cathy Davey (see the video below).
Both are amongst the performers at the upcoming Turning Pirate Mixed Tape New Year's Eve Party in Vicar Street, Dublin.
Other performers include: Rhob Cunningham, Neil Hannon, Jerry Fish, David O'Doherty, Gavin Glass, Richie Egan, The Ambience Affair, Tucan, Laser Tom and the Blast Crew.
Hope to see you there!
Lisa also spoke on Irish radio about this gig recently…
Continue Reading
---
Search EskimoFriends.com
Video of the Day
Facebook
@eskimofriends on Twitter
Share Your Fan Photos via Flickr!! (just add to the group: eskimofriends)